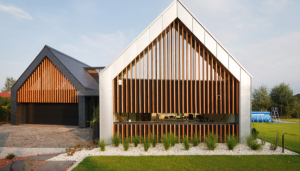 When it comes to building your dream home, "one-size-fits-all" just won't cut it. Your home should be a reflection of your personality, needs, and desires. That's where "We Build Barns" comes into play. With a commitment to turning your dream into a reality, they offer custom home services that cater to your unique vision.
The Power Of Customization:
Building a custom home is all about making your vision come to life. We understand that every homeowner has different tastes and needs. They work closely with you to create a personalized space that's both functional and aesthetically pleasing. Whether you're dreaming of a modern, sleek design or a rustic, cozy retreat, their team of experts is well-equipped to turn your ideas into reality.
Quality Craftsmanship:
Crafting a custom home requires more than just creativity; it demands top-notch craftsmanship. We pride ourselves on a team of skilled artisans who pay attention to the finest details. From the foundation to the roof, your home will be built with precision and care, ensuring it stands the test of time.
A Collaborative Experience:
Building a custom home is a collaborative experience. We involve you in every step of the process. They listen to your ideas, provide expert guidance, and keep you informed throughout the construction journey. This collaborative approach ensures that your dream home is a true reflection of your desires.
The Investment In Your Future:
A custom-built home isn't just a place to live; it's an investment in your future. With We Build Barns, you're not only getting a home that suits your needs perfectly, but you're also increasing its long-term value. Your custom home will stand out in the market, making it a smart financial choice.
Don't settle for a cookie-cutter house. Choose us and embark on a journey to craft the home of your dreams. Their commitment to customization, quality craftsmanship, and collaboration will transform your vision into a beautiful reality that you can cherish for years to come.