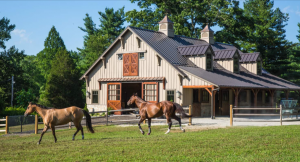 Riding arenas, known as venues built for horse-riding athletes, symbolize the unique relationship between humans and horses. It is where players and their beloved animals unite to establish their relationship with dedication, deep responsibility, and excitement. This blog will discuss the importance of riding the Arena and its benefits.
Importance Of Riding Arena:
Masterful Training Of Players: A riding arena is considered essential for players to hone their playing skills. Here, the players are given open space for exercise and training, where they can spend dedicated time with the horses. 
Horse Care: The riding arena is the epitome of a safe and good horse structure. Here, horses have the space to be provided with the proper nutrition, exercise, and stability without the care that can impact their performance. 
Mental Health: Riding arenas improve not only physical health but also mental health. Players get pleasure from working with horses, which can reduce stress and improve mental health.
Benefits Of Riding Arena:
Improvement Of Sports Skills: Riding Arena helps in improving the sports skills of players. Helps. Here, players get the opportunity to work with horses in a unique setting and in a manner that can improve their competitive skills.
Drive to Prosperity: Riding Arena equips players to drive continued prosperity to their sport. Can inspire. This is where players can achieve their goals and the motivation to keep fighting.
Conclusion:
Riding arenas symbolize the unique relationship between players and horses, which helps players improve their sporting skills. And can help towards prosperity. It is a place to promote solace, prosperity, and mental health and allows players to spend time together with their beloved animals. Therefore, we see the importance of the riding arena and its benefits as something that inspires them to remain dedicated.