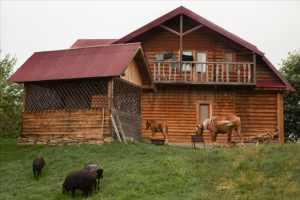 Riding arenas are treasured locations where a deep bond between rider and horse develops for those who have an insatiable passion for horses and riding. Whether you're a skilled rider honing your abilities with each stride or a beginner, the quality of the riding arena might be the key to an enjoyable experience.
Crafted for Performance
The needs of our riders have been meticulously considered when designing our riding venues. Each arena is built with a strong bottom that supports your horse's stride and is smooth and sturdy for optimal effectiveness. We utilize premium equipment that effectively absorbs stress to reduce the risk of strain and damage to the horse and the rider. The condition of the footing is essential. 
Weather-Resistant Durability
Mother Nature may be fickle, but our riding arenas are designed to resist the elements. Our stadiums are built with weather-resistant materials that assure long-term endurance, from heavy rain to searing sun. You may ride in your premium arena regardless of the season without fear of weather-related damage or shaky footing.
Ample Space for Training and Riding
Space is a key commodity in any riding arena, and we recognize how important it is to have enough space to practice different riding disciplines and maneuvers. Our luxury riding arenas come in a variety of sizes to meet the demands of each individual, from personal training to hosting equestrian events. Ride with confidence is our main aim to give from our side.
Conclusion
For riders searching for an outstanding equestrian experience, our premium riding sites provide an excellent equestrian experience. Whether you ride for pleasure, competition, or training, our arenas provide the ideal canvas for you to ride with confidence and satisfaction. Contact We Build Barns for more details.