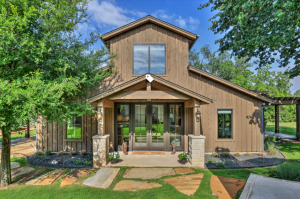 When you imagine a barn, you might picture a rustic structure filled with bales of hay and rows of stalls for horses. While this classic image still holds its charm, the concept of barns has evolved. Today, barns aren't just for housing livestock and storing farm equipment; they've become a symbol of a unique and comfortable way of living. We specialize in creating barns with living quarters that seamlessly blend comfort and country charm.
A Modern Twist On Tradition:
We understand the allure of country living. Barns with living quarters offer the perfect fusion of modern amenities and rustic aesthetics. Imagine waking up to the sound of roosters and the smell of fresh hay, all while enjoying the comfort of a well-designed living space. Our barns are not just structures; they are homes that exude warmth and character.
The Best Of Both Worlds:
Our barns with living quarters are custom-designed to suit your lifestyle. Whether you're looking for a weekend getaway, a cozy retirement retreat, or a spacious family home, we can make it a reality. These barns often feature open floor plans, large windows to embrace natural light, and beautiful wooden interiors that capture the essence of the countryside.
Endless Possibilities:
The possibilities are endless when you choose us. We can incorporate everything you desire – from modern kitchens and luxurious bathrooms to spacious living areas and cozy bedrooms. You can even have a loft with a picturesque view of your property or a spacious garage for your vehicles.
Conclusion:
Barns with living quarters are more than just a housing solution; they represent a way of life. We Build Barns combines the best of both worlds by offering the comfort of modern living within the charm of the countryside. Experience the beauty of rural life without sacrificing the conveniences you love. Contact us today to explore the endless possibilities of barn living.