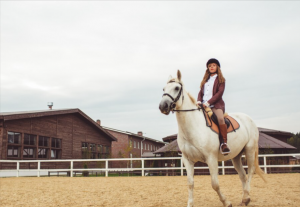 Horse enthusiasts understand that their passion goes beyond a hobby – it's a way of life. The bond between rider and horse is profound, and it's essential to provide these majestic creatures with top-notch facilities. That's where CeleEquestrian Facilities and We Build Barns come into play.
The Equestrian Dream Realized:
CeleEquestrian Facilities have carved a niche for themselves in the equestrian world. They offer a haven for both riders and horses, combining top-notch facilities and a deep passion for all things equine. With sprawling pastures, well-maintained arenas, and state-of-the-art stables, CeleEquestrian Facilities cater to the needs of horse lovers, ensuring a thriving, vibrant community.
The Foundation Of Excellence:
At the heart of CeleEquestrian's success is their partnership with us. This brand excels in constructing equestrian facilities that are not just functional but beautiful as well. The barn is the heart of any equestrian center, and We Build Barns crafts them with precision and an understanding of the unique needs of horses and riders.
We bring innovation to the stables with well-ventilated spaces, secure stalls, and designs that enhance the well-being of the horses. Their commitment to quality ensures that equestrian facilities stand the test of time, serving as an enduring foundation for riders to cultivate their passion.
A Thriving Community:
CeleEquestrian Facilities, powered by us, create a thriving equestrian community where horse enthusiasts can flourish. The shared love for these magnificent animals, coupled with world-class amenities, makes it an ideal place to nurture dreams, compete, and simply revel in the joys of horsemanship.
Conclusion:
CeleEquestrian Facilities and We have joined forces to create an equestrian haven where horse enthusiasts can thrive. Their dedication to excellence and love for horses make this a place where dreams are realized, bonds are formed, and the equestrian spirit soars.