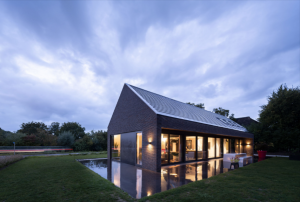 When you think of a barn, images of rustic charm & a simpler way of life likely come to mind. But what if we told you that a barn could also be a comfortable & modern living space? At We Build Barns, we specialize in creating barns with living quarters that seamlessly blend the best of both worlds.
The Perfect Fusion of Old & New:
Our barns with living quarters are a testament to the perfect fusion of old-world charm and modern comfort. These structures retain the classic barn aesthetics – the weathered wood, the iconic gambrel roof, and the wide-open spaces. Yet, step inside, and you'll be greeted by a space that boasts all the conveniences of modern living.
Space That Adapts To Your Needs:
Our barns with living quarters are highly customizable, allowing you to design a space that suits your specific needs. Whether you're looking for a cozy weekend retreat, a spacious family home, or a unique office space, we can make it happen. The versatility of our designs ensures that your barn isn't just a building; it's a reflection of your lifestyle.
Efficiency & Sustainability:
We believe in sustainable construction practices. Our barns are designed with energy efficiency in mind, from insulated walls and energy-efficient windows to sustainable materials. We're committed to creating living spaces that are not only beautiful but also eco-friendly.
A Retreat Like No Other:
Imagine waking up to the soft rustling of leaves and the smell of fresh hay. Our barns with living quarters offer a retreat like no other. You can enjoy the tranquility of rural life while still having all the amenities you need just a few steps away.
In conclusion, a barn with living quarters from We Build Barns is more than just a place to live; it's a lifestyle. It's a tribute to the timeless charm of barns and the modern comforts we all cherish. If you're looking to create a unique living space that combines rustic appeal with contemporary convenience, contact us today. Let's make your barn dreams a reality.