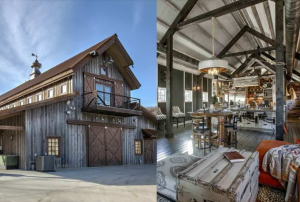 Barn homes are a testament to the seamless blend of rustic heritage and modern comforts. These iconic structures, once dedicated solely to agricultural purposes, have evolved into unique, charming, and highly functional living spaces. At "We Build Barns," we pride ourselves on our commitment to preserving the rich history of barns while infusing them with the convenience and luxury demanded by contemporary homeowners.
Honoring Tradition: Barns have played a pivotal role in American history, serving as essential hubs for agriculture and community gatherings. Our barn homes pay homage to this heritage by retaining the fundamental features of traditional barns, including the distinctive gambrel roof and sturdy timber frames. These architectural elements not only celebrate the past but also offer durability and character that few other structures can match.
Modern Comforts: While barns of yesteryears may have been sparse and utilitarian, today's barn homes are a far cry from their humble origins. We meticulously transform these historic structures into comfortable, spacious, and energy-efficient homes. Our skilled craftsmen integrate modern amenities seamlessly, ensuring that you can enjoy the latest luxuries within the timeless charm of a barn.
Versatile Living Spaces: One of the most remarkable aspects of barn homes is their adaptability. Our designs maximize space utilization, offering open-plan living areas, soaring ceilings, and ample natural light. Whether you desire a cozy countryside retreat or a sprawling family residence, our barn homes can accommodate your vision.
Eco-Friendly Living: We are committed to sustainable building practices. We prioritize eco-friendly materials and energy-efficient designs, reducing your carbon footprint while creating a healthy living environment for you and your family.
In conclusion, barn homes beautifully embody the harmonious coexistence of the past and the present. We Build Barns is dedicated to creating homes that honor tradition while providing all the comforts of modern living. Our barn homes are more than just houses; they are living monuments to history, offering a unique blend of nostalgia and contemporary convenience.