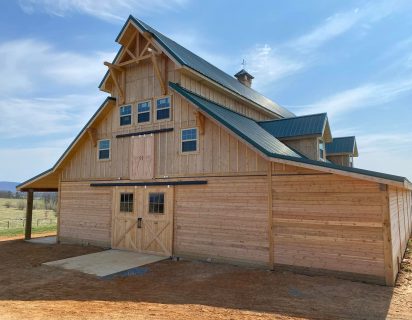 Finding a company that can realize your dreams is crucial in the world of house development. At We Build Barns, we pride ourselves on being experts in creating custom homes & barn garages that are tailored to your unique vision. With our unparalleled craftsmanship & attention to detail, we are committed to turning your dream into a reality.
When it comes to custom homes, we understand that every homeowner has different desires & needs. Our team of talented architects & builders will work closely with you to create a home that reflects your style while also fitting your preferences & way of life. To ensure that your custom home exceeds your expectations, we prioritize open communication and collaboration from the initial design to the finishing touches.
But what sets us apart is our expertise in barn garages. Combining functionality with aesthetic appeal, our barn garages provide ample space for your vehicles, storage needs & even a workshop. Whether you are looking for a classic barn-style design or a modern interpretation, we have the expertise to deliver a structure that perfectly suits your requirements.
At We Build Barns, we recognize that the quality of our work is only as good as the materials we use. That is why we source the finest materials available, ensuring that your custom home or barn garage is built to withstand the test of time.
If you are ready to bring your custom home or barn garage vision to life, look no further than We Build Barns. With our passion for craftsmanship & commitment to excellence, we are dedicated to making your dream home a reality. Contact us today to begin the journey toward your one-of-a-kind living space.